Bringing transformational treatments to patients sooner
Applying integrated and efficient translational science to develop new treatments that help combat and cure diseases.
Our extensive experience and unique drug development engine enable us to identify and incubate high-potential novel drug candidates and rapidly deliver partner-ready clinical assets. Our lead technology platform is our proprietary Pigment Epithelium-Derived Factor (PEDF) derived Short Peptide (PDSP), which can be applied across multiple therapy areas and indications. PDSP is a multifunctional secreted protein that has anti-angiogenic, anti-tumorigenic, and neurotrophic functions. This platform opens up exciting possibilities for wound healing and tissue regeneration due to its ability to enhance cell proliferation.
Worldwide license for developing PDSP
In 2015, BRIM was granted an exclusive, worldwide license for developing PDSP in all therapeutic indications including dry eye syndrome, corneal wound healing, diabetic ulcer wound healing, osteoarthritis, androgenic alopecia, and muscle/tendon regeneration.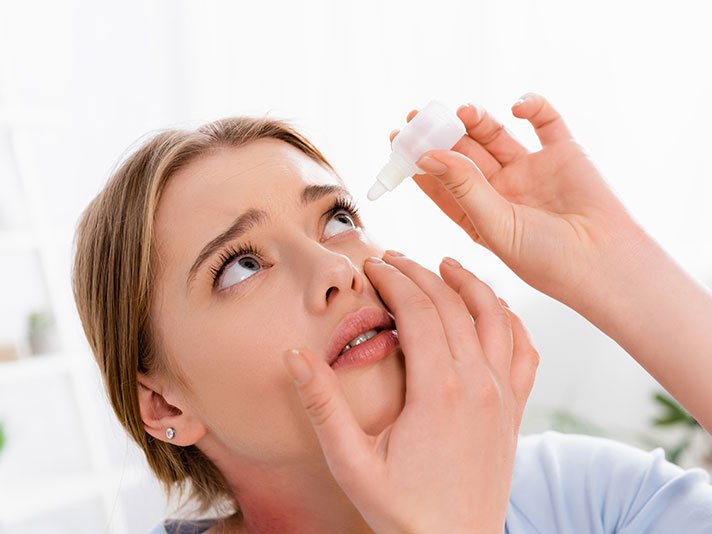 Our lead asset, BRM421, is on track to become a first-in-class treatment for dry eye syndrome (DES) which treats and repairs cornea damage. BRM421 has demonstrated safety and efficacy in two clinical studies. BRIM is devoted to the development of other novel synthetic peptides, including treatments for severe corneal damage (BRM423), and osteoarthritis (BRM521).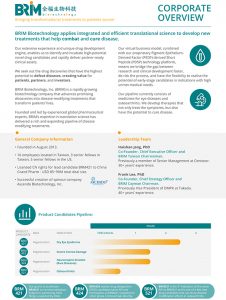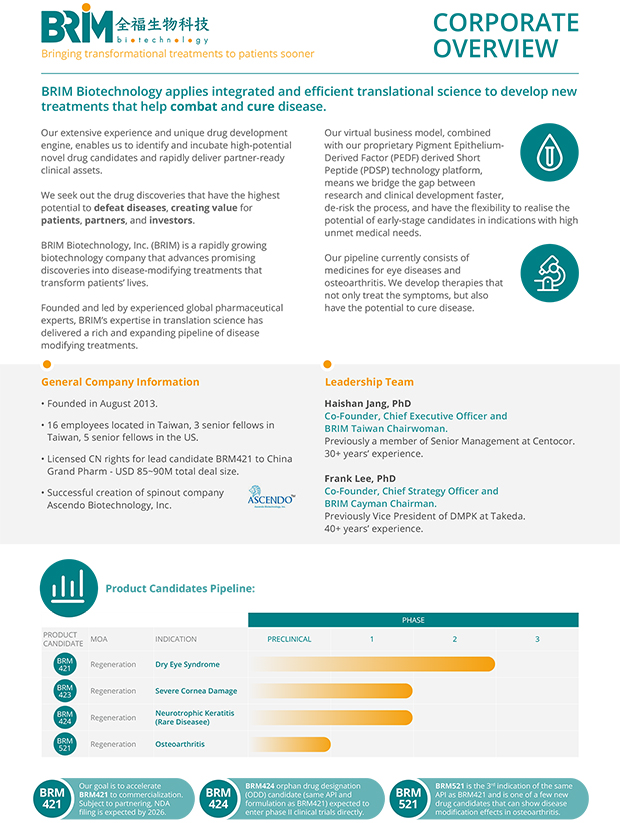 Download BRIM's corporate factsheet
Find out more about our product pipeline and development milestones.
"I was impressed with BRIM's innovation and the unique mechanism of action of their lead compound in treating Dry Eye Disease."
"Going after remediating limbal cells is something that no one else is doing - it distinguishes BRIM from the rest of the market"
"If you can use a piece of peptide that achieves almost the function of a stem cell, I think that's exciting"