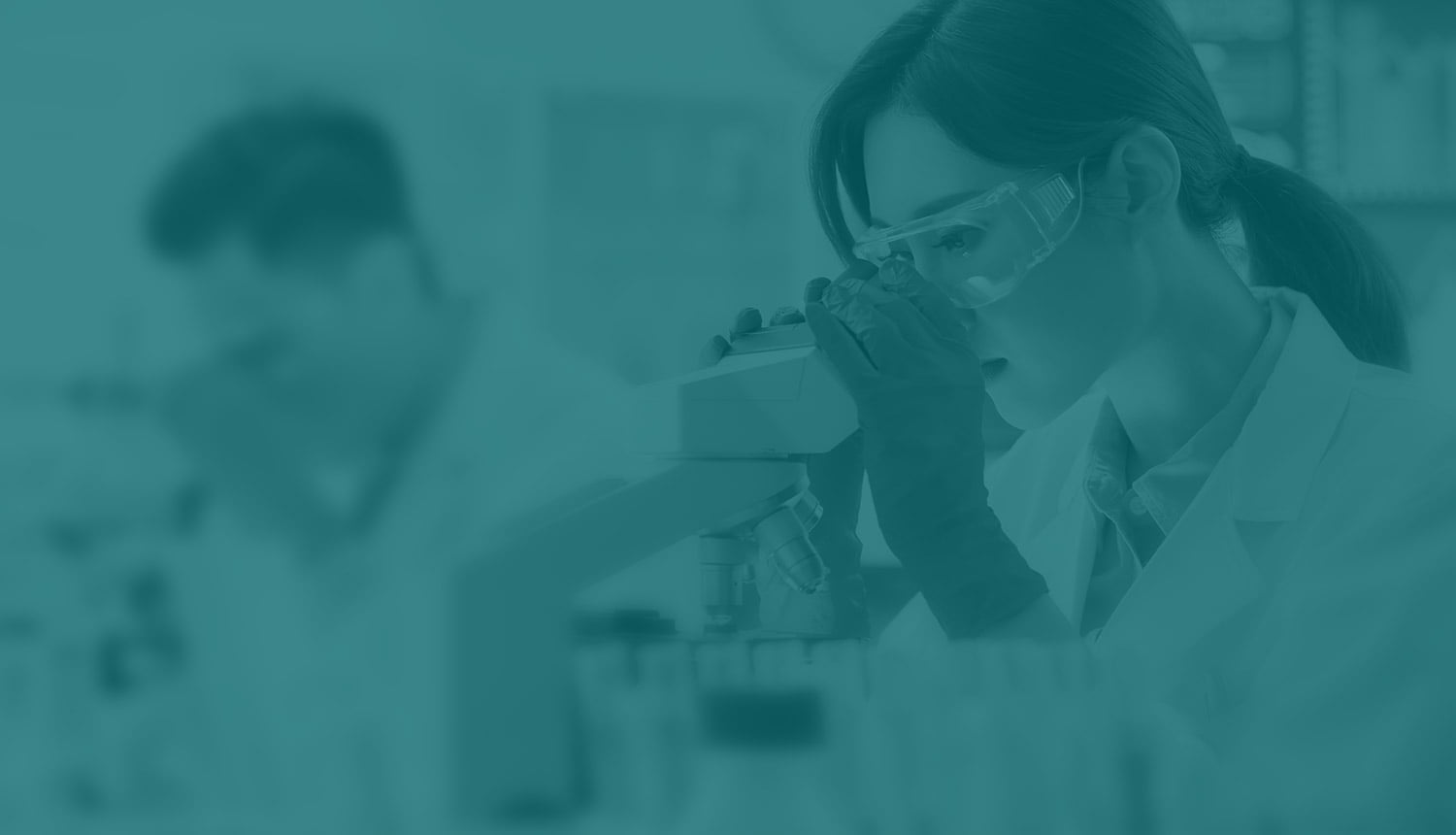 Bringing transformational treatments to patients sooner
---
Applying integrated and efficient translational science to develop new treatments that help combat and cure diseases.

Our Pipeline
Our extensive experience and unique drug development engine enable us to identify and incubate high-potential novel drug candidates and rapidly deliver partner-ready clinical assets. Our lead platform is our proprietary Pigment Epithelium-Derived Factor (PEDF) derived Short Peptide (PDSP), which can be applied across multiple therapy areas and indications. PDSP is a multifunctional secreted protein that has anti-angiogenic, anti-tumorigenic, and neurotrophic functions. This platform opens up exciting possibilities for wound healing and tissue regeneration due to its ability to enhance cell proliferation and differentiation.

Worldwide license for developing PDSP
In 2015, BRIM was granted an exclusive, worldwide license for developing PDSP in all therapeutic indications including dry eye disease, corneal wound healing, diabetic ulcer wound healing, osteoarthritis, androgenic alopecia, and muscle/tendon regeneration.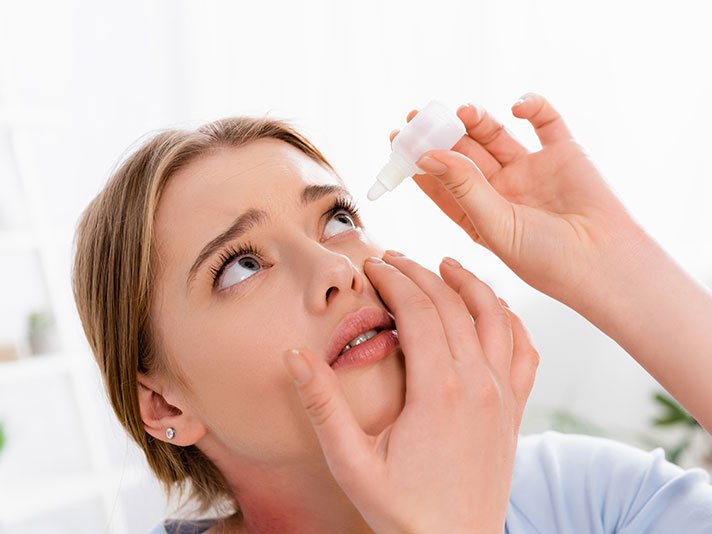 Our lead assets
Our lead asset, BRM421, is on track to become a first-in-class treatment for dry eye disease (DED) which treats and repairs cornea damage. BRM421 has demonstrated safety and efficacy in two clinical studies. BRIM is devoted to expanding this synthetic peptide's indications, including treatments for neurotrophic keratitis (BRM424), and osteoarthritis (BRM521).
Awards
Silver Prize In Drug Development
2018 Pharmaceutical Technology R&D Award
This Award was given by the Taiwan Ministry of Health and Welfare and the Ministry of Economic Affairs. It is the only biotechnology-related award from a government agency. This Award recognizes that BRM421 for Dry Eye Disease is a first-in-class new drug that is effective in corneal repairing.
Outstanding Fundraising Award
2019 Prominent Enterprise Awards
The Taipei Prominent Enterprise Awards were designed to recognize and encourage outstanding enterprise achievements in innovation, competitiveness, market power, influence on the overall industry, economy, and society, and impact on social responsibility.
Outstanding Company of the Year
2020 Taiwan BIO Awards
BRIM's professional expertise in translational sciences, virtual team model, and ability to develop new drugs was recognized by this award as one of the five most outstanding potential biotech companies.
Innovative Technology Award – Gold Prize
2020 Taipei Biotech Awards
The Taipei Biotech Awards encourage further investment in the field of biotech research and development. BRIM's PDSP technology platform was the first prize winner of the "Innovative Technology Award."
I was impressed with BRIM's innovation and the unique mechanism of action of their lead compound in treating Dry Eye Disease.

Bob Ruffolo, PhD
BRIM Scientific Advisory Board Member and former president of R&D at Wyeth Pharmaceuticals
Going after remediating limbal stem cells is something that no one else is doing – it distinguishes BRIM from the rest of the market

Dr. Eliot Lazar
BRIM's medical consultant and CEO at elCON Medical Consulting
If you can use a piece of peptide that achieves almost the function of a stem cell, I think that's exciting

Wayne Liaw, PhD
Senior Fellow at BRIM and former Senior Director at Otonomy and Optimer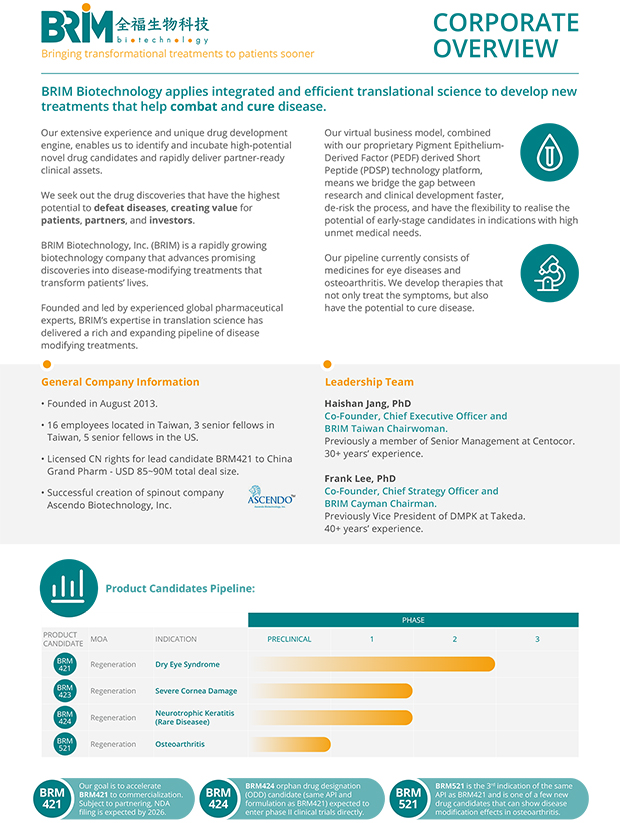 Download BRIM's corporate factsheet
Find out more about our product pipeline and development milestones.
Download BRIM's Corporate Overview