Dry Eye Disease
Experimental drug with the potential to cure Dry Eye Disease
Our lead asset, BRM421, is on track to become a first-in-class treatment for Dry Eye Disease (DED) which treats and repairs corneal damage.
BRIM Biotechnology is accelerating the cycle of innovation by leveraging its PDSP platform to bring novel ophthalmology treatments to market.
About Dry Eye Disease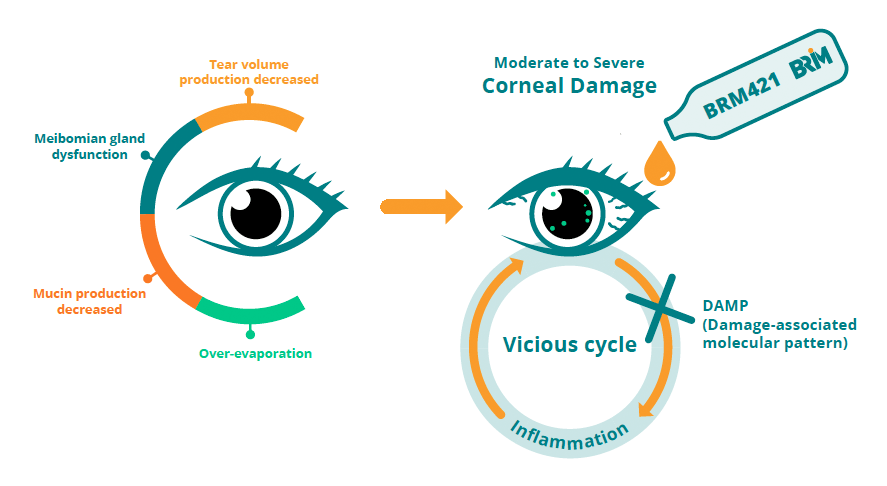 Dry Eye Disease (DED) is a common disorder in which the eyes produce insufficient tears to lubricate the eye. It can stem from pre-existing eye abnormalities, previous disease, or medical intervention. Aside from dry eyes, the most common symptoms of moderate-to-severe DED are eye fatigue, headaches, neck/shoulder pain, and blurred vision. In some cases, patients experience other symptoms including redness, burning sensations, or constant pressure on the eye. DED is increasing globally with an estimated 1.52 billion cases worldwide in 2020*. There is currently no cure for Dry Eye Disease and there is a lack of effective therapies available to patients.
Speeds up corneal repair
BRM421 is a developing topical ophthalmic solution for patients with moderate-to-severe DED. The active pharmaceutical ingredient of BRM421 is a synthetic peptide comprised of 29 amino acids derived from Pigment Epithelium-Derived Factor (PEDF) with neurotrophic and anti-inflammation properties. PEDF is a secreted glycoprotein with numerous known biological effects, including the promotion of tissue regeneration at the ocular surface. BRIM's PEDF-derived Short Peptide (PDSP) has been shown to promote the growth and expansion of limbal epithelial stem cells in severe ocular wounds in both mice and rabbits. BRM421 has a unique mechanism of action. It stimulates the proliferation and differentiation of corneal limbal stem cells, and as a result, speeds up the corneal repair process. It also promotes the proliferation and differentiation of goblet cells, improving the tear quality of DED patients.
BRM421 entered Phase 3 trials in 2022
BRIM has completed two Dry Eye Disease clinical studies, a First-in-Human (FIH) Phase 2 study and a Second-in-Human (SIH) Phase 2/3 study. These two studies have shown BRM421 to be a safe and, effective Dry Eye Disease therapy, with early on-set action. BRM421 entered a Phase 3 study at the end of 2022 and is expected to file an NDA in 2026.
* Statistics from Datamonitor Healthcare